Downcast - The Best Way to Manage and Listen to your Podcasts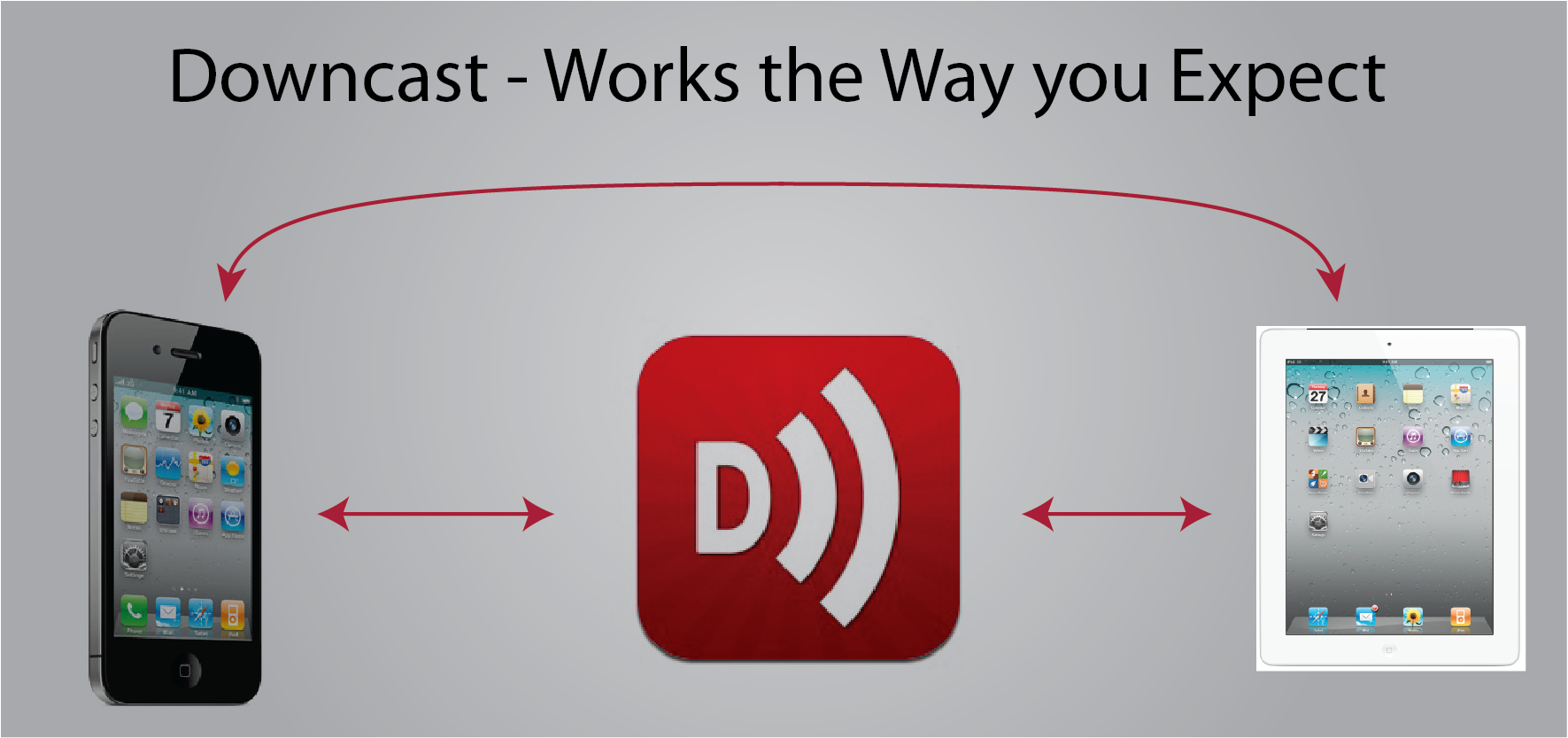 I listen to a lot of podcasts every week and used to find myself always fighting to keep devices synced, while making sure I am listening on the right device at the right time. I could forget trying to download new content when I am traveling unless I knew exactly what show was released when and go into the iTunes Store and download one at a time. I was very hopeful that during the release of iOS 5 and iCloud that Apple would address the podcast syncing issues and allow me to have a "whisper-sync" option between all my devices on what is downloaded, played, and current location. That hasn't happened yet. Despite every creative option I tried to derive I just couldn't solve my Podcast conundrum - until I discovered Downcast.
Downcast is a great app that does everything I have wanted Apple to implement in addition to being a great podcast player. Downcast works across iPhones and iPads seamlessly with a great user interface. You can very quickly add your favorite podcast subscriptions through their very good directory or add a podcast manually with a URL. Once you subscribe to your favorite podcasts you are ready to sit back and enjoy this awesome program, on all your devices!
You first see the magic of this app once you setup Downcast on your iPhone and then download it for iPad. You go into the "iCloud Sync" settings on your iPad turn everything on and you are done. Once I told the iPad version that I wanted to sync across devices using iCloud it went to work downloading everything I had already setup. You don't have to create an account, you don't have to login, it knows your iCloud account and just starts downloading and syncing your locations between devices.
The player on the device is excellent as well. There is an insane number of playback speed options (1/2x, 1x, 1 1/4x, 1.5x, 1 3/4x, 2x, 2.5x, 2 3/4x, 3x) to choose from. It gives you all the details about the episode with links to show notes and other information about each episode right in the player. My favorite feature and the one I use every night is the integrated timer. As I am going to sleep, I tap the timer button set for 15 minutes and then I am out like a light. Before you had to close out of iTunes, go into the clock, click on timer, set the timer, then set to turn of iPod, then you could go back into your podcast. And don't forget that the iPad doesn't have a clock app at all. The player also has a continuous play feature if you want to keep going through your playlist and great buttons that you can skip forward or backwards at editable intervals. Airplay is built right into the player so you can quickly and easily stream podcasts to you AppleTV, Airport Express or other Airplay enabled device. And if you want to stream from your iPhone and iPad through your computer use AirServer, a great program that turns your Mac into an Airplay compatible device.
If you are a heavy or even moderate podcast user and listen on more that one device, travel, or don't want to sync your iOS device with a computer every time you want to check for new content then this is the app for you. For $1.99 on the App Store this program is well worth it.